Where does the programme take place?
The location for this immersive experience is Bardou village and the stunning Parc Naturel Regional du Haut-Languedoc that surrounds it, which is dotted with hiking trails and mountain pools for swimming.
Abandoned not long after the First World War, Bardou was re-discovered by the current owner's stepfather in 1967. Since then, the village has been gradually restored by family and friends, whose communal purpose lives on.
While there is now electricity and water piped off the mountainside, much of Bardou's infrastructure has changed little since the 16th Century, meaning facilities are comfortable, but basic. Together with its isolation, these limited concessions to modern life are part of what makes Bardou so special.
As simple as the village might appear, the experience of staying here feels incredibly welcoming. During your stay, you will eat delicious French mountain food, relax in front of a roaring fire at the end of the day, and sleep in a warm bed.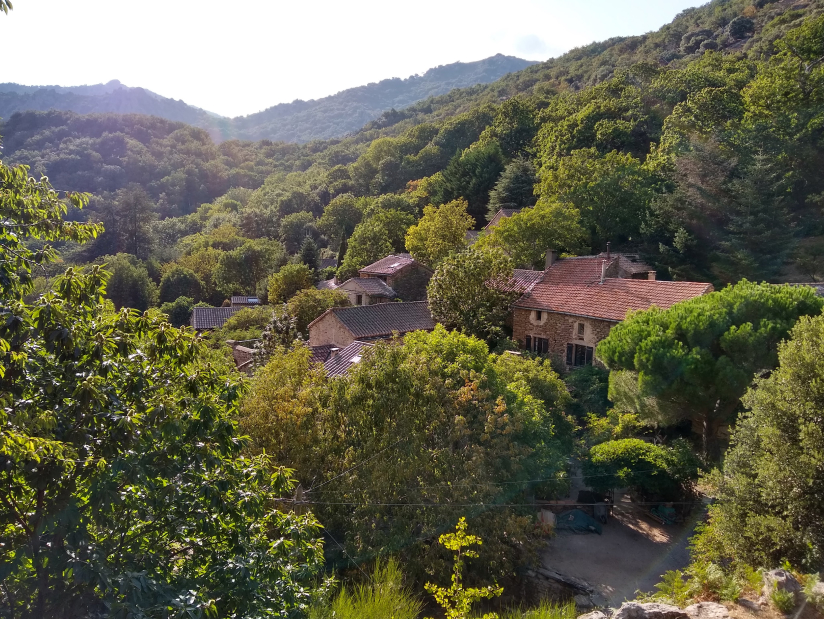 ---
Accommodation and facilities
Accommodation in the village consists of separate bedrooms in larger houses for two people, or single occupancy houses. All houses have their own kitchen, electricity and running water, and a living room with an open fire or wood burning stove. Most have their own terraces with views across the village and/or mountains.
Each house is unique and the layout varies considerably. Some have internal ladders, for example, or low ceilings, and so allocation of accommodation is based on individual needs.
No houses have loos, and only double occupancy houses have showers (these are prioritised for female participants). Communal showers and flushing loos are located in the centre of the village. Earth closet toilets are on the edge of the village.
Aside from accommodation, we will have our own dedicated meeting spaces: a hall for the large group meetings, and a large house for smaller group meetings. This house will also serve as our communal indoor space during free time.
---
Location and travel details
Address:
Bardou, 34390 Mons, France.
The nearest village with amenities is Mons, which is 20 minutes from Bardou by car, or approx. 70 minutes on foot. The nearest A&E hospital is approx. 45 minutes by car.
Nearest airports:
Toulouse (multiple carriers and flights). 161km from Bardou, approx. 150 minutes by car.
Montpellier (limited carriers and flights). 118km to Bardou, approx. 105 minutes by car.
Beziers (limited carriers and flights). 67km to Bardou, approx. 80 minutes by car.
Nearest train stations:
Beziers (timings by car, as above)
Montpellier (there is a link to Mons by tram
and then bus)
---