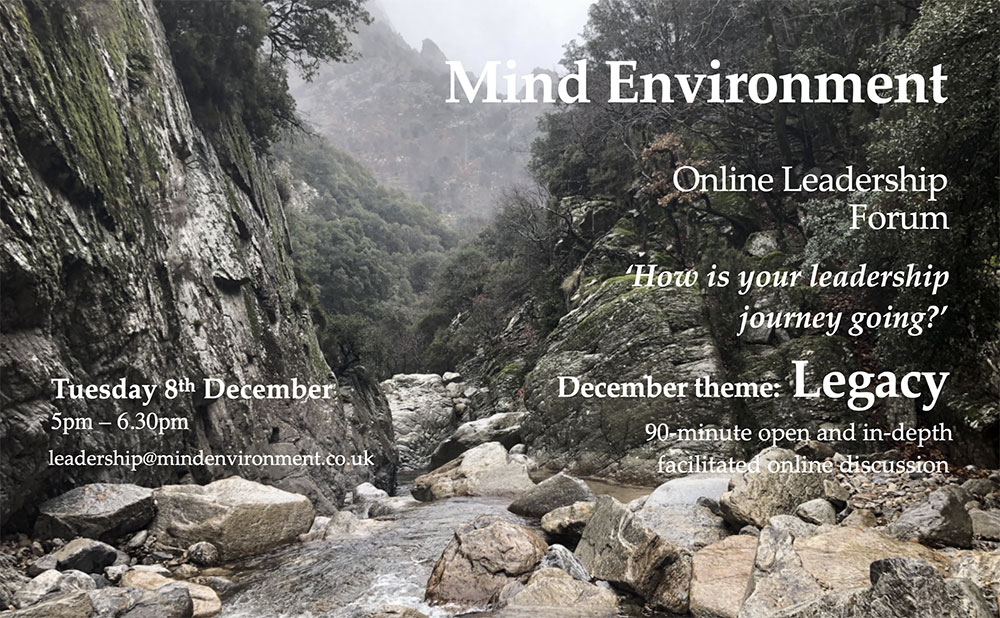 Join us for our last Online Leadership Forum of 2020
Theme: We'll continue to offer leaders a confidential space to explore their leadership journeys in light of the multiple challenges that 2020 has thrown up. However, as with November, the December forum will be guided by a one-word theme, that we will explore in relation to each of our journeys, and the wider business, social and political landscapes.
Our theme for December is 'Legacy'
Format: The focus will continue to be 90 minutes of open and in-depth discussion facilitated by Andy Iwaniec and Tom Cotton and moderated by Annabel Dunstan, but with the addition of some techniques to get beneath the surface of the theme, and more time at the end to crystallise individual and group takeaways.
As before, the forum is open to anyone in a senior leadership position, although limited to one place per organisation and a maximum of 14 people.
Thanks again to everyone who has taken part in our forums this year. Here are some of the comments that participating leaders were kind enough to leave in follow up surveys carried by our partners Question & Retain:
'I really loved it… Mind Environment always help us take a completely organic path and discuss subjects that transcend the more mundane topics we tend to discuss on other forums. Always come away feeling energised and brain exercised!'
'It was a very interesting and timely discussion. I think the candid nature is invaluable.'
'There are relatively few opportunities to be as candid in an open environment… this forum is different as there isn't a short-term goal attached to it. It feels like a space where relative strangers might grow at a pace that suits them.'
'It is a great group and we seem to have a strong sense of support and safety in a short space of time. Thank you for holding this space.'
If you, and/or someone in your network would like to attend our December forum, please email leadership@mindenvironment.co.uk to arrange a short call with Programme Director, Tom Cotton to discuss.